As May rolls around, governments are loosening their restrictions in light of some stability during the corona-virus outbreak. However, folks around the nation are asked to remain patient and stay at home as much as possible, while maintaining our standards of social distancing. As we look to an odd spring with plenty of time spent at home, families have plenty of time to spend together, and homeowners have plenty of time to make home improvements. If you joined us for our last article, Home Improvements to Tackle During Social Distancing, we discussed a few home improvements that you and your family can work on while staying safe this spring.  Last time, we talked about preparing your garden for the warmer weather, fixing up furniture around the home, spring cleaning, and painting your home's exterior (we can help you with that last one!). Today, we're continuing that theme with a few more projects that you can tackle while we're spending our springtime at home.
Pressure Wash Your Property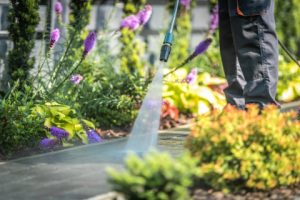 Take a keen look around your property. Do you have siding that's covered in dirt and grime? Or maybe the grill has even left a bit of smoke on its surface. Is your deck covered in mud from your last landscaping project? Or maybe it's stained by grass clippings kicked around by your weed eater. Do you have a stone path to your garden that is completely overgrown? A pressure washer can work wonders to improve the look of your home. Hit fences, siding, decks, your driveway, paths — you name it. If you don't have a pressure washer, you can rent one from your local hardware store, or purchase a decent model for a couple hundred dollars. Be sure to follow guidelines for the best psi to wash the surfaces you're working on!
Reclaim Your Garage
Like most Americans, my garage is filled with tools, projects, boxes, loose lumber, sports equipment, camping gear… and sometimes a car. If you have trouble fitting your car in your garage (which may be its actual intention), then it's time to reclaim that space. First, clear out any junk you don't need. Donate those old tires. Get rid of the lathe that you haven't used in four years. Toss those tiny bits of scrap lumber you're holding onto. Next, give yourself some added storage space with overhead storage racks, wall shelving, and labeled tubs that make everything easy to get to, yet out of the way. Finally, hang up all the tools and equipment that you can. Get bike hooks to keep your bikes from obstructing your pathways. Get a tool rack for all the tools that you use often. Hang up hand tools on nails and screws (or invest in specialized hardware to hang up your hand tools). Get as much stuff off of the floor and onto walls as possible. Once you've reclaimed all that space, grab your shop vac or blower, and give the whole garage a good "dusting."
Update Your Light Fixtures
For making rooms in our homes visible, our lighting fixtures often go oddly overlooked. If you have lighting fixtures that are outdated, broken, or damaged — or if you have fixtures that are missing bulbs — now's the time to give your home lighting attention. Hop online to check out fixtures that are available for delivery. You can also purchase new bulbs online that fit the atmosphere that you'd like for your home. Consider yellow bulbs for warm, cozy spaces, like your bedroom or the entertainment room. Use clean white bulbs to make your spaces feel more open and airy, like your kitchen or perhaps your bathrooms. If you have older bulbs, it's likely that they aren't energy efficient, consider newer models that will provide lasting savings on your energy bill.  You can transform the entire look of the interior of your home with a few new fixtures and bulb — get creative and see what works best for each space throughout your abode.